Information for Beginners
We Know How it Feels
Everyone you see in our classes has been a beginner just like you.
We all understand how you feel and will do our best to ensure that your first lesson (and all those after) is enjoyable and memorable.
Ages
Aikido is suitable for all ages.
We accept students from 12 years old and it is possible to start and continue your training into your 60's and 70's.Don't let your age deter you.
Best class for starting out:
Adults - any of theadvertised classes will be OK.

What is aikido
Aikido is a non-aggressive martial art.
You are invited to come along and observe any of the aikido classes before making up your mind and/or to try out our free classes.
Find out more
What to Wear
Wear something loose and comfortable like track pants and a T shirt or sweat shirt.
You will be asked to remove all jewellery.
Long hair should be tied back and nails should be short for health and safety reasons.
When you are ready you can buy a dogi (uniform).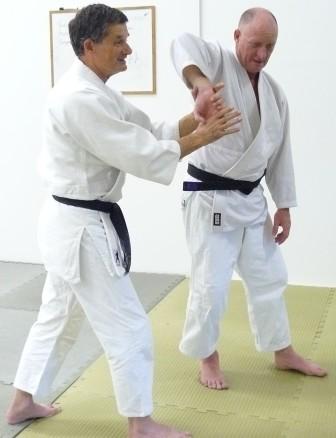 Once you Arrive
Try to arrive 10 minutes before the advertised class start time which can be found HERE
Introduce yourself to the Aikido Instructor (Sensei) or you can speak to any of the members for information.
Take advantage of our 2 free classes with no obligation. Try it out. You will enjoy it.
Your first training session
Classes typically start with a light warm up.
Expect your first class to be slow unless you have done another martial art
You will be shown how to fall safely (Ukemi)
You will be introduced to the basic stances and footwork
You will be shown some basic techniques.
You may be given a brief introduction to some of the weapons we train with
There will be an opportunity to talk about our style and structure, etiquette and any other matters you want to cover.
Aim-You will learn
Warm up and stretching techniques
The etiquette and culture of Aikido and the dojo
Falling safely and comfortably
Efficient movement
Unarmed and armed (aiki weapons) techniques for throwing and pinning an attacker
Weapons include - Jo (staff), Bokken (wooden sword), and Tanto (knife)
Outcome
Over time you can develop the following qualities:
Calmer and more confident dealing with conflict
Fitter and more flexible
Improved posture
Better balance and coordination
Able to react and recover on loss of balance
Greater awareness of your surroundings
Time Frame
Your learning will be ongoing and Aikido can be a lifetimes study.
You can set your own level of commitment and hence determine your rate of progress.
Gradings
Adult gradings are held three times a year and grading is by invitation based on attendance and skill level.

Best of all you will meet wonderful class mates who will guide and assist you throughout your aikido career.
In the pursuit of excellence, you will learn skills that you will use for the rest of your life"
---